We've all heard of self care and skin care, but have you actually practiced period care? Us girlies LOVE pampering ourselves (no cap) as shown with the impulse buys, shopping sprees and random tiny items we purchase from Shopee. Gurl, don't lie, I know you and your cart with 56 items in it.
If self care is the practice of taking care of one's well being and happiness, period care is taking care of yourself and your body during your period. And we know that it makes a difference when our moods are lifted during that time of the month — ask your boyfriend, he'll agree.
With that, here's some local Malaysian brands you can shop at to improve your period experience! Since periods do affect the way we spend, might as well spend it on things that can help us get through those days, amirite?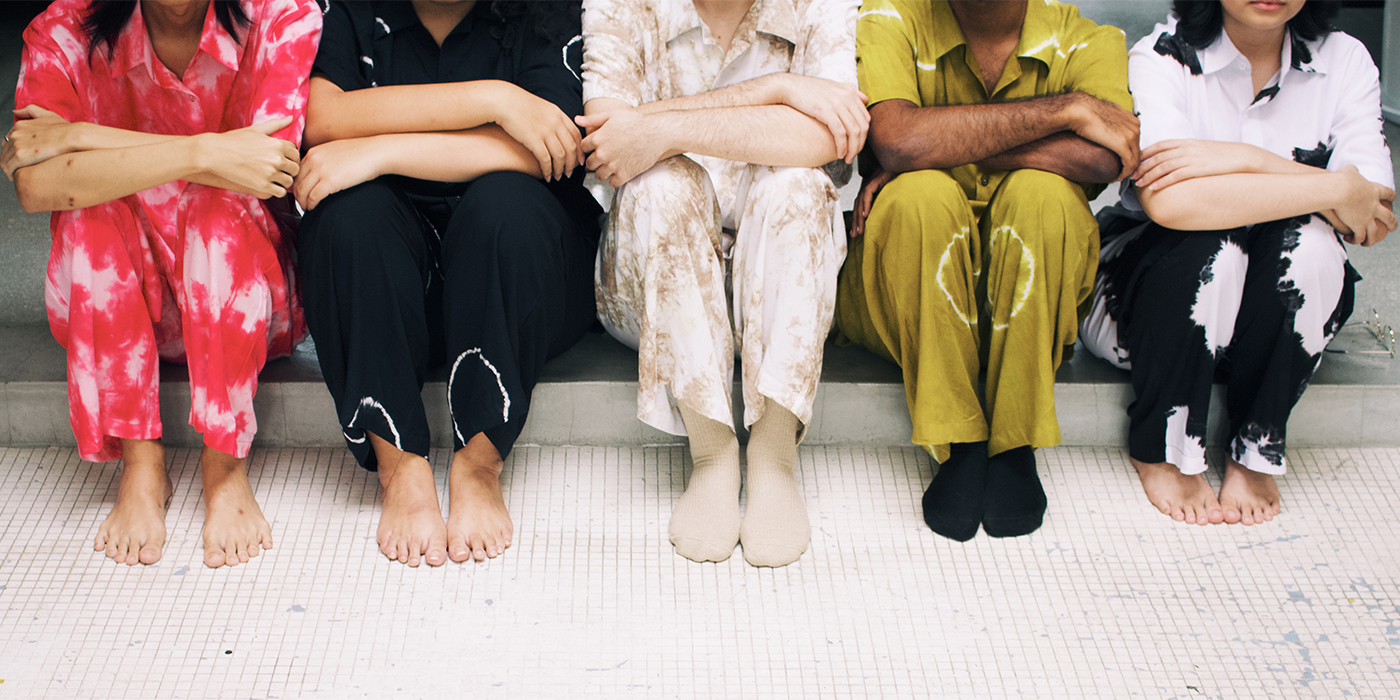 On your period, you don't want to be touched, you don't want to be sweaty or uncomfortable, and I have the right thing just for you! Duduk Concept's loose, flowy and oversized loungewear are just the thing! Better yet, it has gorgeous organic prints, all lovingly hand dyed — so no two pieces are the same. Flaunt your uniqueness while staying super comfy in bed or on-the-go with Duduk!
Malaysian-made Oxwhite's Comfy Bikini Panties are a bestseller and we have no doubts why. The widened back cutting gives your bum ample coverage while the wider leg holes prevents chaffing for my girls with dem thicc thighs! Especially on your period, sometimes pad wings can be a nuisance as they keep scratching your legs as you walk.
Made out of signature cotton with premium elastane to create the perfect balance between comfort and breathability, Oxwhite's panties promises no friction burns & is built to last over 50 washes — sounds like the perfect period panties to me.
WEBSITE | INSTAGRAM | FACEBOOK
Period hair and skin is NOT the mood at all. Been there, done that, hate it, never again. Hair and skin gets oily during periods due to the increased sebum production and that means more bad hair days & acne breakouts.
With Silkfairy's 100% Pure Mulberry Silk Pillowcase, your quality of sleep may just improve to help with that! The gentle silk prevents frizzy and tangled hair during the nights of rolling around in pain, and not just that — it is also much gentler on skin, preventing acne! That sounds like a great investment to me…
WEBSITE | INSTAGRAM | FACEBOOK
4. Hair care — Root Remedies
As mentioned, hair during periods are just the worst! It gets oily, your scalp is much more sensitive and you shed more hair as well, yikes! For that, we suggest Root Remedies' Roots Hair Care Essentials Set — which includes Clary Sage & Lemongrass Hair Wash and Pomegranate Hair & Scalp Treatment Oil!
The clean & natural hair shampoo cleanses the scalp and hair gently, leaving it soft, smooth and volumized while the hair oil relieves itchy and dandruff-prone scalp while softening, repairing and encouraging hair growth. And the hair care set is suitable for all hair types! Talk about the best of both worlds!
WEBSITE | INSTAGRAM | FACEBOOK 
We don't know why but we just feel extra gross when we're on our period. Do you? If so, Handmade Heroes' Super Duper Nourishing Body Scrub might be just the thing for you!
Made out of rose petals, the heavenly scent is sure to calm you and leave you smelling like a flower. The rose petal scrub gently exfoliates dead skin cells while nourishing the silky soft skin beneath with whipped shea butter! As it is a gentle exfoliation, it's great for sensitive skin too, yay!
WEBSITE | INSTAGRAM | FACEBOOK  
Acne is another bummer that comes with your periods, but fear no more! We've got The Mineraw's Glow Serum to save the day!
Boasting ingredients like jojoba oil, rosehip seed oil, vitamin E oil, rose geranium oil and tea tree oil, these oils are suitable for the face; treating acne, protecting, repairing, moisturising and rejuvenating skin — and these are just to name a few of the benefits of the Glow Serum! It's great for all skin types but be sure to do a patch test if you have sensitive skin.
WEBSITE | INSTAGRAM | FACEBOOK 
7. Scented candles — OiLilin
Give your room a spa-like feel with scented candles so you can rest and relax during those crampy and cranky days! But how cool is this? OiLilin actually upcycles used cooking oil to make these environmentally-friendly candles!
So you're reducing waste and helping the planet all at the same time while you boujee up your room. OiLilin also sells candle making kits, which can be very therapeutic to do during your period.
WEBSITE | INSTAGRAM | FACEBOOK 
Aromatheraphy is one great way to get your relaxation both physically and emotionally. Getting an essential oil massage or doing it your own can significantly improve your mood besides improving blood circulation (which can help reduce cramps too!)
The Balance Essential Oil Blend by Jeanie Botanicals calms, soothes and relaxes you with essential oils of lavender, sandalwood, ylang ylang, rose geranium and chamomile. The oils can be used for direct inhalation, to diffuse or for massages! So you get to reap the benefits of the oils while your room smells amazing!
WEBSITE | INSTAGRAM | FACEBOOK 
9. Activewear — terrae
Okay, yes, we get it. No one wants to exercise on their period. But we swear by it! Exercising a few days prior to your period can significantly reduce cramping and overall improve your mood. Doing yoga or stretching exercises will help as well to relieve cramps and back pains!
For that, we wanna give a shout out to terrae, a company selling cute, quality and sustainable activewear — made from ECONYL® regenerated nylon, a 100% recycled fibre made from ocean and land waste such as discarded fishing nets and fabric scraps. The workout wear comes in a variety of muted, neutral colours which is super trendy these days!
Not just that, they have matching scrunchies too! If you're looking for something great to spend on that will last you a long time, try terrae!
WEBSITE | INSTAGRAM | FACEBOOK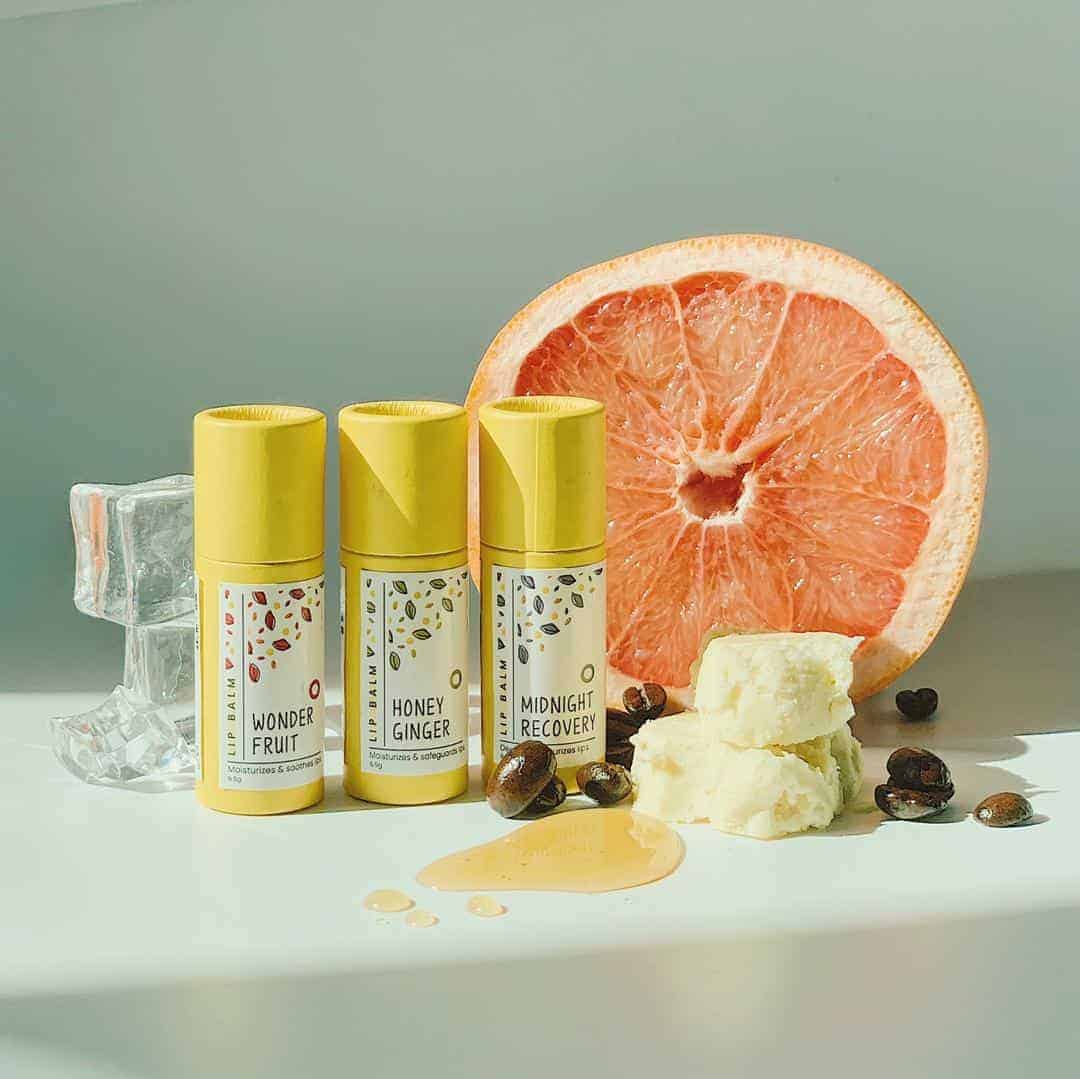 Last but not least, we gotta care for our lips! Even the upper ones, haha. Local brand Lips Carpenter creates healthy, sustainable and personalised lip care, which means, besides their ready made products, you can customise lovely gifts for your friends and family!
But if you're looking for something versatile and useful, get their Moisturising Lip Balm that comes in 3 different types — Honey Ginger, Wonder Fruit and Midnight Recovery. Boasting natural, rich and moisturising ingredients such as coconut oil, mango butter, cocoa butter and beeswax, the balms are great for dry, cracked and peeling lips.
And if you've got sensitive lips like me, don't worry! Lips Carpenter's natural lip balms are synthetic fragrance-free, alcohol-free, paraben-free, chemical-free and last but not least eco-friendly.
WEBSITE | INSTAGRAM | FACEBOOK 
Now go forth my child, and spend your angpaos on some amazing local products! Don't forget to thank us if you've found some keepers, hehe.