Ahh how wonderful that technology has advanced to help women log and track our menstrual cycle. Isn't it just easier to have one app which can predict when your period is estimated to arrive, logging down symptoms to identify whether they're period related or not? I know I was thankful for my period app when I went to the hospital and they asked me when my last period was and all I had to do was click on my app and find the red circles from that month.
So for all you ladies out there, if you'd like to hop on this easy tracking period app, keep scrolling!
1. Flo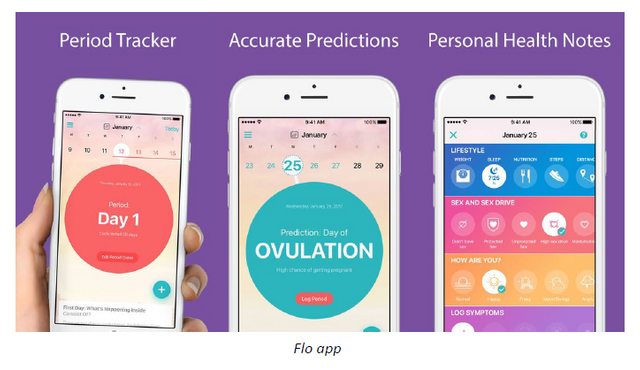 Flo is password-protected, so nosy friends, partners, or family won't know anything about your cycle unless you want them to.
You can also sync your data with Apple's Health app and track your sleep duration, water consumption, and physical activity. For those trying to get pregnant, you can monitor basal temperature, test results, and see the tracker's estimate of your most fertile days.
2. Clue
All in one app to log your period flow, menstrual products used, sex, pain, moods, cervical fluid, and PMS symptoms. Clue is fully integrated with Apple Health, which makes it optimal for iOS users who use the catch-all fitness app.
3. Eve Tracker
This cute app has tons of cheeky features like a daily "Cyclescope"—a horoscope-like forecast based on where you are in your cycle—as well as daily sex quizzes and a community of Eve'ers to commiserate with about things like nasty cramps.
4. Period Diary
This app has more than 30 PMS symptoms and 20 moods available to track and syncs with your phone's calendar so you can see all your period info in one place. And if you don't want others to know you're one of the billions of people in the world who menstruate, the application is password-protected, and the icon is labeled P.D. instead of Period Diary.